Tonight Robert 'I Am Thy Lord And Thou Shalt Kneel, Bitches!' Scoble, a blogger who has some claim to internet fame through his blog Scobleizer, decided that the title of "technical evangelist" that has been often attributed him simply wasn't enough, and that deity is apparently more fitting.
Lisa Barone wrote a piece talking about personal brands and false idols on the web. In it she wrote the following paragraph:
Don't support personal brands built on smoke and mirrors. Make people work for the brands they're trying to create. Don't let them scoble their way in. Don't accept that someone is important just because they act like they are or someone told you they were.
Apparently Robert is the ultra sensitive type, and didn't take too kindly to her choice of wordage. Here is his reply: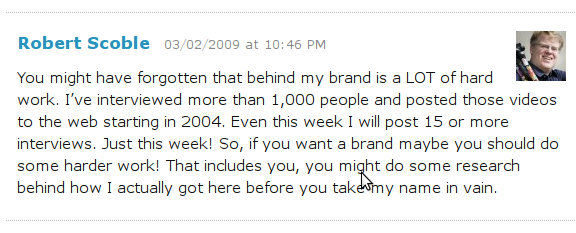 Wow, Bob. Way to identify with the lowly masses out there. 😀