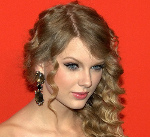 Taylor Swift
In which Taylor says "um", "like", talks like a Scotsman, laughs, and sometimes gets excited. Sure, she said lots of other stuff too… but I didn't include any of it in this video.
Proof that Taylor can make you smile regardless of what she is saying:
I did not change the order or duplicate anything, I just removed the in-between talking parts. You can view the original video here:
From a technical standpoint probably the hardest part was getting the "ums" separated from the surrounding words, due to the fact that often Taylor speaks quickly in this interview, and some of the words ran together. For instance, many of the "and um" combinations kept coming out as "dumb" when I tried to isolate them, although I think in the end I did a decent job of pulling them all out. I did wind up missing a few I just couldn't get though.
On a side note, I was looking at some of the comments on the original video, and I was shocked to see that there are some downright Taylor Swift haters out there. I honestly don't get it. I am not referring to the "oh, I really don't like her music" type of people, but rather people who what I can only assume are completely consumed by self loathing posting some seriously ugly stuff. Just a heads up in case anyone of that genre finds their way here or comments on the original video, I will simply delete anything that appears to be hate driven from the comments. This video is in no way meant to make fun of Taylor. Many people talk this way, and the interviewer was just as bad.