I was looking through Digg the other day, when this image ad caught my eye for some reason. Something about it caught my attention, and I wasn't quite sure what it was, so I took a closer look at it. It was subtle, and hard to figure out at first. The copy on the ad itself was unremarkable, and went like this:
FLASH NEWS: Pam Scott, N.Y., made $1,000,000 on FOREX!

19 y.o. housewife, using $99 Autotrading program-robot, made $1 million in only 2 weeks! READ FULL STORY..
The copy itself was bad enough to make me simply ignore the ad, but still… something about it kept drawing my eyes to look again.
Finally after staring at the ad long enough, it almost jumped out at me: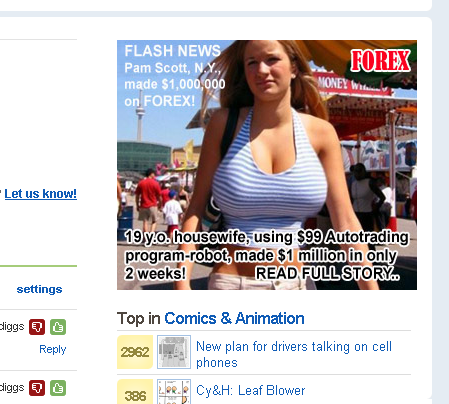 I was like, whoa! How did I miss that the first time? Yeah, sure, they cleverly hid the subliminal message in the background to the ad, in the image itself, but I like to stay abreast of the marketing industry and am usually on the lookout for these kinds of messages.
For those of you who can't see the message in the original screenshot, here is a zoomed in version, without the surrounding html: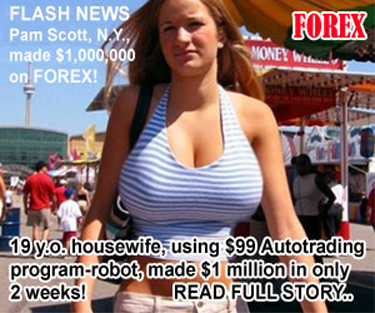 Much more obvious now, isn't it?
In case you didn't know, subliminal advertising is actually illegal in the US and other countries. The FCC has this to say about subliminal messages in advertising:
The Commission sometimes receives complaints regarding the alleged use of subliminal perception techniques in broadcast programming. Subliminal programming is designed to be perceived on a subconscious level only. Regardless of whether it is effective, the broadcast of subliminal material is inconsistent with a station's obligation to serve the public interest because it is designed to be deceptive.
Deceptive advertising itself is illegal under 15 U.S.C. § 45.
If for some reason you can't see what I am talking about in the above screenshots, here is an even further zoomed in version, with most of the ad copy cut out so you can see more of the background image itself: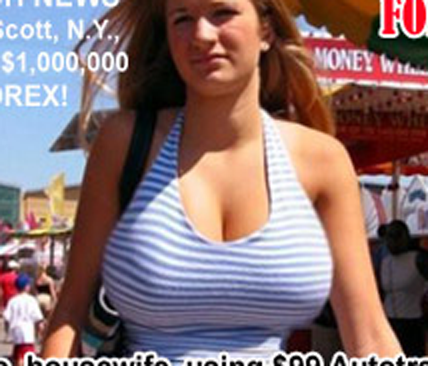 Unbelievable, isn't it? I mean, there it is, staring you right in the face. This is a big deal too. Very, very big.
Still don't see what I am talking about? Here's a copy of the zoomed in image, but with most of the pic grayed out, highlighting only the subliminal parts: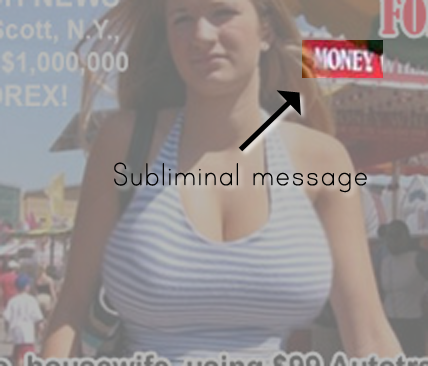 Yup. That's right. They modified the sign in the background to plant the word "money" in your subconscious mind. Obviously they wanted anyone looking at that ad to be thinking that they would be getting their hands on great… big… HUGE… piles of money just by buying their product. I know financial times are hard, but I just can't believe what some people will do just to sell their software sometimes.