On Friday I wrote a piece on how it looked like Google was testing AJAX results in the main serps. Some discussion followed as to whether, if this change were to become a widespread permanent one, this would affect Firefox plugins that existed (definitely some existing ones would stop working), break some of the rank checking tools out there (they would have to be re-written I'm sure), and even some people asking if it would thwart serps scrapers from using serps for auto page generation (not for long, no).
While those things would definitely be affected in at least the short term, there is a much greater impact from Google switching to AJAX. All of the issues mentioned involve a very small subset of the webmastering community. What actually breaks if Google makes this switchover, and is in fact broken during any testing they are doing, is much more widespread. Every single analytics package that currently exists, at least as far as being able to track what keywords were searched on to find your site in Google, would no longer function correctly.
The reason this breaks is core to the way all of the browsers handle referrer strings, which is how the browser tells the web server how it got to your page in those cases where it does send that information. Sending the referrer string is optional, and can even be turned off, although by default it is on in all of the major browsers that exist today. Analytics programs, whether they are log based (programs that go through the server logs reading the referrer strings) or Javascript based (such as Clicky, the built in tracking in MyBlogLog, and Google Analytics) use that referrer string to determine what it was that that someone actually searched on, assuming that they found your site via a search engine, before reaching your site. For Google, they analyze the querystring portion of the referring url, and look for the "q={keyword}" parameter. So for instance, if you were to find the following url in your logs:

then you would know that someone had gone to Google, searched on [troll defense], and then clicked on the link to your site. If you were running some form of analytics program, that program would then register and track that search for you, so you knew what was and what was not sending you traffic from Google. If you run Google Analytics, you can even hack it to get the full referring url and get even more information from the referral.
However, if Google switches over to AJAX none of this will be possible. Unfortunately this isn't even something that could be accomplished with a simple recoding of the analytics packages either… it would require completely rewriting the browsers themselves in order to track referrals from the new Google AJAX searches. The new AJAX url, as I mentioned in the earlier post, is driven by parameters that come after the hash mark (the number or pound sign in the url). Browsers do not include that data in the referrer string, and it is never sent to the server. Therefore, all referrals from a Google AJAX driven search currently make it look as if you are getting traffic from Google's homepage itself. Now, while this kind of information showing up in your tracking programs might be quite a boost to the ego if you don't know any better, and will work wonders for picking up women in bars ("guess who links to me from their homepage, baby!"), for actual keyword tracking it is of course utterly useless.
On Friday I set up a couple of tests to demonstrate this, so I could show the results in the server logs, MyBlogLog tracking, and even in Google Analytics itself. I found a phrase that I was ranking for, that I knew that no one was searching on, [bad neighborhood vandemar], and sent myself some referrals. In every case the method I checked showed Google.com itself as the referring site. You can see this in the server web traffic log:

in MyBlogLog stats reporting: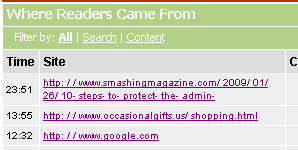 and even in Google Analytics:

I don't know if Google has considered these ramifications in making this switch over, or if this testing is something that they are actually interesting in pursuing. I don't know why they would be testing a change of this magnitude in the first place, though, unless there was a good chance that they would eventually go live with it.