Yes, I know… Google has been offering AJAX driven results through the API and other services for ages, but now they have rolled that out to the main Google Search. It appears to be only on Google US (I tried manually switching to Google UK, and it redirected me from the AjAX version to a static HTML page), but that of course could change in the future.
I noticed this as soon as I started searching for stuff today, from almost the first query I typed in. When I looked at the url, instead of seeing the normal /search?= at the beginning:

I found myself looking at this:

You can see that the query string, the portion of the url that sends parameters such as what keywords you are looking for and how many results per page you want to see to the server, has been removed, and that Google has replaced it with a hash tag, the part or the url that is normally only read by the browser itself (everything after the pound or number sign, shift-3 on the keyboard: "#"). This was what first clued me in to the fact that they had changed over, as this is a common visual way to indicate a "page change" to the user, letting them know that they have gone from one page to another in AJAX (which can perform the changes with no url change at all), and allows the Back and Forward buttons to still trigger AJAX calls.
I verified that this is indeed what is happening by performing a search, viewing the source of that search, and then looking inside that source for some text that I knew was on the page. For example, if you perform a search for [bad neighborhood]: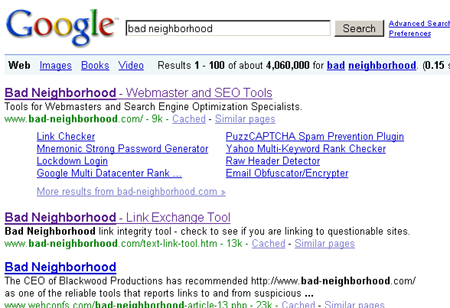 and then view the source, and search for [Search Engine Optimization] (which is clearly on the page):

you can see that it's nowhere to be found: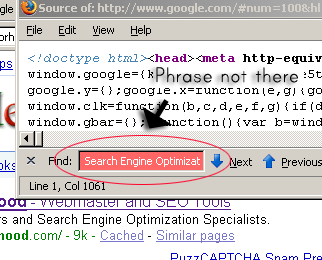 So, what does that mean for us as searchers? To be honest I'm not sure of the full impact of this yet. I do know that AJAX can use more memory than pages generated by flat HTML, especially in Internet Explorer, so some older machines with fewer resources (such as those that might be prevalent in struggling businesses during economy strapped times) will possibly have performance issues. Also, certain Greasemonkey scripts will break with this change, like the handy Number Google Results, the script that allows you to insert sequential numbering into Google results, so you know where a site ranks at a glance without having to count.
As Google does with so many of it's roll outs, there is no way to turn this feature off, either… so if it does affect you, tough. Google apparently doesn't care. For now you can manually change the url by hand, but that is of course a pain in the keister. If anyone else finds other issues with this new change, or ways that it impacts us as searchers (or as seo's, for that matter), please chime in.