Matt Cutts asked me in a Sphinn comment the following question relating the my post on paid links on Mahalo.com:

Let's ignore, for the moment anyways, that for absolutely any other website on the internet with the evidence that I presented the process would most likely entail the webmaster proving their innocence rather than the person reporting the paid link proving that they are guilty, and that they would have to do so after they actually got banned. Before I get started, keep in mind… whatsyourconundrum.com is not Conundrum Wine's main website. Their actual website is http://conundrumwine.com/. The site that is being linked to from Mahalo is a marketing device, a link or PageRank funnel, something that acts as an intermediary link bait, or simply to increase brand recognition. This is actually a great way to help increase your exposure without having to put gimmicky items on your company's professional website. That main website is not hosted on Mahalo.com's servers.
Now, Matt is correct. The whatsyourconundrum.com website is indeed hosted on Mahalo servers. Without even looking at the IP address, we know by looking at the whois record the dns servers are ns1.mahalo.com and ns2.mahalo.com: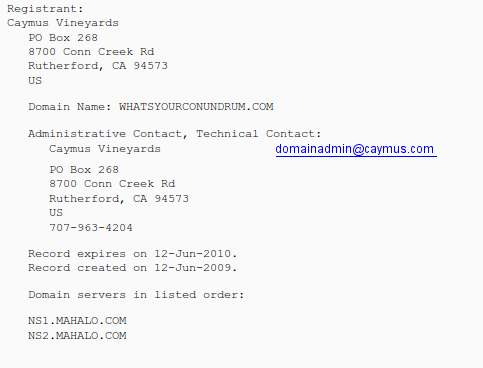 The reason, I am guessing, is that apparently whatsyourconundrum.com is powered by a white label version of Mahalo's Answers. What we also see in the whois record is that the domain is owned by Camus Vinyards, and that their administrative email is domainadmin@caymus.com. Following that hint, we see that the caymus.com domain is owned by Caymus Vinyards: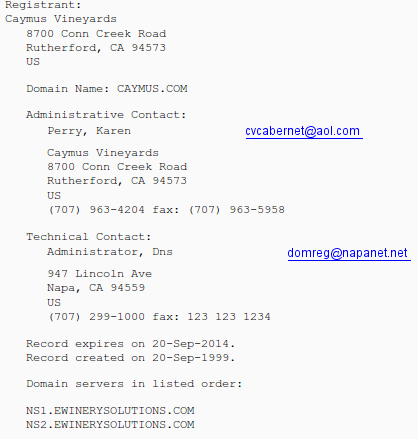 Caymus.com is in turn being hosted on ewinerysolutions.com servers. Ewinerysolutions.com is being hosted on their own servers, so the dns trail stops there. If we go to the eWinery Solutions website, we can see that what they do is offer marketing services to wineries:
The most profitable and fastest-growing segment of the wine industry today is the consumer-direct channel. eWinery Solutions offers you the freedom to market your wines easily and effectively by creating a one-on-one dialogue with your best customers.
Jot on over to their Portfolio page, and we see that Conundrum Wine is in fact a client of eWinery Solutions: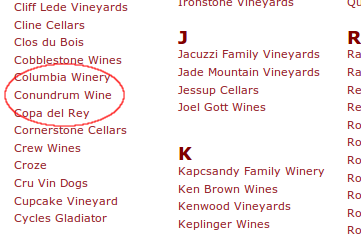 Now, does eWinery offer their services to Conundrum out of the goodness of their heart? Somehow I doubt it. Did Jason agree to lease and host the white-label version of Mahalo Answers to them because of all of the warm fuzzies he knew it would give him? Of course not. In fact, he even refers to this deal as being Mahalo's first "client":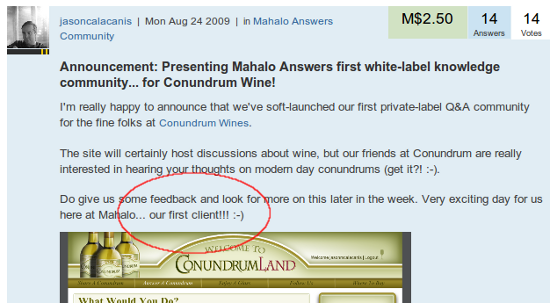 Whether the header link was part of the original deal negotiated to set up whatsyourconundrum.com, or a separate cash transaction, the fact remains that this was not a merit based link. It has it's roots in a commercial transaction that most likely occurred between someone at Mahalo and the people doing Conundrum's marketing. What I also can't say is whether or not the clean sitewide links pointing to whatsyourconundrum.com on Jason's private blog was part of the deal or not… but there are 5 of those links there as well, under the heading of "Daily Reads":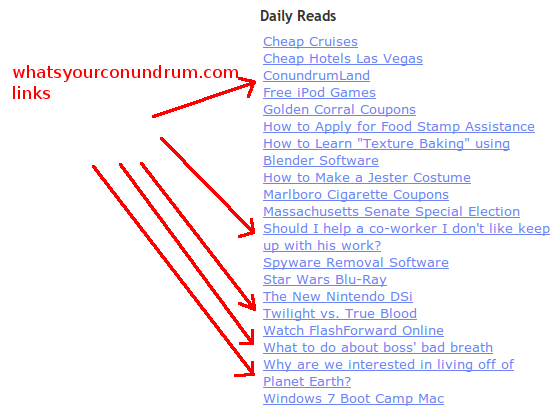 Hopefully Matt won't ask me to get all ninja and obtain a copy of the actual invoice… that might prove a little problematic for me. 🙂
Enjoyed what you read here? Subscribe to my feed.

You should follow me on Twitter!
18 Responses to "The Mahalo Paid Link Evidence Trail"
Leave a Reply