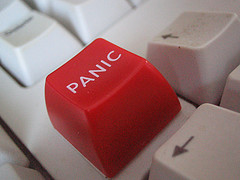 Last month Google (Nasdaq: GOOG) Senior Vice President, David Drummond, made a public statement about Microsoft's bid for Yahoo, in which he characterized the move as one that rose "troubling questions". A couple of weeks later, Google co-founder Sergey Brin echoed that sentiment, stating that he found elements of the potential union between Microsoft and Yahoo as "unnerving". Less than 1 week after that, comScore (Nasdaq: SCOR) released its January 2008 qSearch paid click report, which demonstrated that from December 07 to January 08 Google had suffered a 7% drop in paid clicks, which are the bread and butter of the Google machine.
Later that same day, in what as far as I can tell was a widely unreported move, David Drummond dumped what amounted to at least $8,960,000 of his stock in the company. According to Forbes, this works out to be worth more than 3.5 times what his 2007 cash compensation was, which came to $2,461,163. He sold off 19,672 shares, each going for between $455.51 to $457.41. This works out to close to the equivalent of 1/3rd of the total amount of options he was granted in 2007.
On Friday comScore posted a clarification on their blog on what they felt was a misinterpretation of their click data report. While some would disagree with that clarification, many still took heart, and Google's stock climbed once again. Had Drummond held on, and sold his stock after the comScore post, he could have perhaps squeezed out close to an additional $400,000 in the sale… but apparently he was eager to sell then.
So, what is it that causes the Senior Vice President of the leader in the search industry to suddenly decide to get rid of such a large amount of his stock in the company? Is he simply "unnerved" by the "troubling questions" raised by the competition's actions? Was the way that most people initially interpreted comScore's click report more on track than what their subsequent blog post would have us believe? Or does he know of something going on that the rest of us don't? Either way, the market definitely bears close watching in the upcoming weeks.