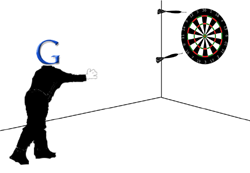 Recently there was a bit of a hubbub surrounding Google's Keyword Tool External (the keyword suggestion portion of AdWords that was made public a couple of years back). It started when a few people, like Barry Schwartz from SERoundtable, noticed that the tool was showing specific numbers for search terms instead of just green bars. Even though at first the numbers only appeared intermittently for people, the official Inside AdWords blog reported the change as a permanent one later that night.
This of course made many people very happy, because if Google themselves were providing the approximate number of searches for keyphrases, then of course those numbers had to be much more accurate that services such as Keyword Discovery, Wordtracker, or Wordze could provide. One would think that, anyways. I mean, who better than Google would know how many times something was searched on, right?
The problem is, however, that those numbers are meant for people doing research into PPC traffic. The numbers shown have very little to do with what people actually search on using Google.com. I learned this the hard way about a year and a half ago, when I decided to try and use AdWords (the internal tool, the one that would actually show me estimated clicks based on position) to pick keywords that I might want to try and optimize for. I identified 3 phrases that I figured would be fairly easy to rank for (which they turned out to be). According to Google, being in the top 3 ad spots (which is as narrow as Google will estimate) I would get an estimated 141 to 180 clicks per day from all three phrases combined. Since natural serps get a slightly better CTR than ads usually do, I figured I would be golden if I could SEO my site to the top for those phrases. Not a ton of traffic, but with the conversion ratios I had on that site for targeted traffic, it would be more than worth it to spend the effort required to get those three phrases to the top.
I managed to make it to the #1 spot in Yahoo for two of the phrases and #3 for the third in a relatively short period of time. Since Yahoo has about 1/5th of the market share that Google does, even without factoring in that natural serps get clicked on more than ads do I should have gotten at least 30 clicks a day for all 3 phrases combined. What I actually got, for the 3 months I was at those positions, was a grand total of 5 clicks for those phrases.
As soon as I saw all of the excitement surrounding the new actual numbers that Google was displaying on the Keyword Tool, I was reminded of my disappointment back then. I decided to set up some testing, and track where all of the actual traffic came from, to help people better understand what those numbers meant, and how they really don't apply to SEO. I figured I would use my poetry site for this, since I know most of those keywords won't cost a fortune to test against. I chose 5 keywords, [friendship poems], [birthday poems], [wedding poems], [inspirational poems], and [best friend poems], using exact matches for each. I ran the test for 3 full days, so I could compare the impressions delivered against what the Keyword Tool estimated the search volume was (should be approximately one month's worth of search volume divided by 3). Some of the phrases got impressions close to what the keyword tool suggested they might. For instance, for [birthday poems] the tool gave a number of 27,100 (which would be an average of 903 searches per day):
and bidding on that keyword for 3 days gave me 2,411 impressions (or 803 impressions per day):
This is fine and dandy if I am only concerned about getting traffic from AdWords, of course. The thing is, if I rely on this data for my SEO efforts I will at best be most likely wasting my time. At worst I will be seriously wasting my time. By analyzing the referrers on the clicks generated during this test we can easily see why this is so.
The Google "Search Network" is much larger than just Google Search
Google said that I had 93 clicks in that time period, but I only had 88 hits to my tracking URL. I'm pretty sure there were some bots thrown in there as well, but since the point of this wasn't about getting charged for invalid clicks, I am going to ignore that fact for now. Filtering out those clicks would only more so make my point anyways, so as far as this experiment goes I am erring on the side of caution anyways. Of the 88 clicks that did register, only 42 actually came from Google or Powered By Google sites. Those are the only places where you could expect to get traffic from if you managed to rank in Google for your desired phrases. The rest of the clicks came from places such as Ask.com, search.bearshare.com (which appears to be powered by Ask), Shopping.com, etc.
Google includes traffic that wasn't even generated by searches at all
That's right, as part of the "search network", Google will display your searches on parked domain pages. I got traffic from at least 2 of them, including birthday.com:
Notice the links on the side (and on the bottom of the pages, if you visit the site) labeled "related searches". All someone has to do is click on a link (or visit a cached page that matches one of those links) in order for Google to register that impression as a "search". It's a pretty safe bet that a fair number of the "searches" showing on the keyword tool were generated in that fashion. Not only can you not opt out of having your ads showing on sites like that, there is also of course no way to filter them out of the keyword tool.
The number the keyword tool show are worldwide searches
When using AdWords you can of course opt to restrict your campaign to a given country. However, the keyword tool itself doesn't allow you to filter the numbers like that. I allowed my campaign to run worldwide to illustrate the point. Of the 27 clicks that came in from Google, 1 was from Google Canada, 1 was from Google Books New Zealand, 3 were from Google Australia, 4 were from Google Ireland, and 11 were from Google UK. Only 7 actually came from Google US, and of those, 2 were Google Custom Search Engines (which can vary greatly in the serps they show). That means that when all is said and done, only about 5.68% of the traffic came from unmodified Google.com.
Now, while you might be tempted to do so, you cannot just reduce it down and say, "Ok, just take the number the Keyword Tool shows, and multiply it by 5.68%". The keywords weren't distributed at all evenly in that way. [best friend poems], for instance, didn't receive any official Google traffic during this test. In the end, the Google keyword tool, even with the shiny new numbers it now displays, has to be taken exactly for what it is… a selling tool that acts as a gateway to getting people to sign up for AdWords. Anyone trying to use it as something else will wind up being sorely disappointed.
As for the other keyword tools available out there, they all of course still have merit. While it isn't free, Wordtracker does have a 7 day free trial for anyone wishing to give them a shot. Li Evans recently turned me on to Keyword Discovery, a service owned by Trellian. And while they don't have a free version, the Wordze Trial for $7.95 is very reasonable, and probably a good option for someone who only needs to do keyword research occasionally. Even if they don't have direct access to Google's secret numbers, at least none of them will try and pass off impressions on a parked domain as a "search" on their network. 😀