Last year I wrote this handy little script named EasyWP. It makes installing WordPress much easier for those without Fantastico or shell access, and is many times faster than having to upload all of the files individually. It's very useful, especially if you install WordPress on a regular basis, or if you need to do a complete WordPress reinstall for whatever reason. Lots of people use and enjoy the script.
Today I receive this email from someone by the name of Joel Drapper:
Hey,

I've got a little problem.

The other day, I had this great idea to make a single PHP file that downloads, and extracts WordPress to make installing it much easier, and faster. So after I coded it, I asked a few of my friends for suggestions on a name. Most of them said EasyWP which sounded pretty good so I went ahead with it.

That evening, I put together the website (http://easywp.9milesMedia.com), but wasn't going to launch it till the next morning when I decided what I was going to licence it under, etc. and was tweeting through this process. Then @smashingmag asked me if I could send it to them. I DMed them a link to the website that I'd set up, telling them that I wasn't launching it quite yet, but they could see it early.

Moments later, my friends told me that he just Googled EasyWP and someone else (you) had made a similar file. I decided that it was probably a good idea to go ahead with my version anyway as I wanted to do a lot more with it then I could see you had done (I wanted to do an ftp version, etc. too in future update), but was going to change the name to something else because you had already used it for your file.

Unfortunately before I could do this, @smashingmag had tweeted a link to my version, and that link has now been retweeted over 100 times. It also ended up getting over 100 delicious bookmarks, and multiple blogs writing about.

I have a method of informing users of updates to the script, and I can set up 301 redirects, etc. but it's going to be really hard now as it's so well branded as EasyWP. I was just wondering if maybe you would allow me to keep the name? As I said, I can change it if you really want me to, but I'd rather come to some kind of agreement on this.

I'm sorry for not checking that the name was free earlier.

Thanks for taking the time to read this email.

I look forward to hearing form you.

Have a great day!
The script this guy wrote, at least in it's current version, is slightly inferior to mine, does the exact same thing, came out a year after mine, and he gave it the same name. The only difference is that he got lucky enough to have @smashingmag to tweet the link for him. As a result, his script is getting a ton of attention. Despite that fact that he discovered that his script, including the name, was basically a direct rippoff of mine, he decides to continue to promote the script: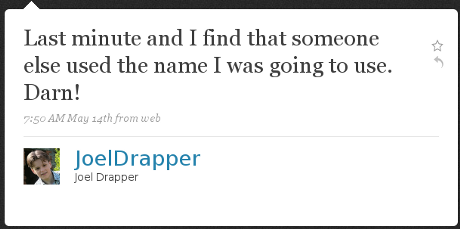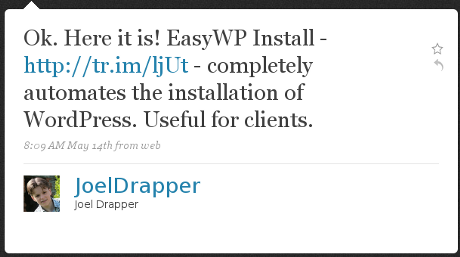 Since he did state that the whole situation was an accident, I suggested to him what I felt would be the right thing for him to do at this point:
Joel,

Ok, for starters, please stop promoting/tweeting your product until we have hashed this out. Your claims of this being an honest mistake seem much less sincere the more you promote this using the EasyWP name. Honestly, the fact that you didn't issue a public apology for not researching the concept and the name the moment you discovered that you were plagiarizing, even though you claim it was accidental, surprises me a little. 19 minutes after tweeting that you discovered that the script had already been done and the name used for that exact purpose, you start promoting your script using that name, and you never stopped.

You said that you planned to go further with your script that I did mine, but as it stands currently not only is your script not really any kind of improvement over mine, but additionally it is lacking a couple of features that mine already has built in (such as checking permissions or allowing the user to upload their own version of wp, should they not want to go with the current one). Seeing as that is the case, and seeing as I released mine almost a year ago, this is what I think should happen from here:

1) I think that you should write an apology post for not doing any research before releasing your product, explain how the name was already being used for a near identical script, and how the original script actually has features yours does not. I think you should include in your apology your reasoning, whatever it was, for not letting people know right away and why you instead continued to promote your product without even mentioning mine.

2) Since my script does in fact offer things that yours doesn't, I think you should simply 301 your current download page to mine.

3) You should ask Smashing Magazine help you get the word out about the original script, seeing as if you actuality did tell them that it was a sneak preview for their eyes only then they should not have tweeted it.

4) In the future if you do write a script with more/better features than mine then yes, I do hope that you use a different name.

Now Joel, obviously I cannot make you do anything, and you will of course do whatever you want. Only your own personal set of ethics will dictate what happens hereon out with this. It's up to you.

Peace.

-Michael
Joel, however, is unwilling to give up the attention that comes with getting a mention from someone with the prestige of Smashing Magazine's Twitter account, and all of the subsequent blogging that results from that. He claims he will give it another name, and come clean about what happened, in a few days after he updates the script. I asked him why he wouldn't fess up now, but he really couldn't give a good answer for that one, so he just replied that they were "taking this seriously and are actively coding updates, and sorting out the hosting".
Do I know for a fact that Joel didn't find my script and decide that passing off a similar one as his own was a good idea? Nope. No way to know those kinds of things. I do know that it took him almost 24 hours to contact me, and that he only did so after the script started to get tons of attention on Twitter. I also know that he refuses to make it right while there is still a large amount of buzz about it. I think that most responsible adults with any concept of business ethics would immediately own up to what happened, drop the script, and find some other idea to develop.
The problem is, Joel Drapper isn't a responsible adult… he's a 16 year old kid that is part of a group of 9 other kids aged 13 – 16:
9miles Media is a small, unique graphic & web design group comprised of nine creative teenage entrepreneurs (age 13-16) from all over the world. We adore what we do, and you'll adore what we can do for you.
So, what do you do in a situation like this? Give them a pass because of their age? Trust their word that it really was an accident, despite their refusal to make it right? Having a hard time figuring this one out myself.