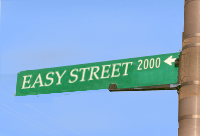 Let's face it… generally speaking, installing WordPress is not exactly an arduous task. It's designed to be relatively easy, allowing pretty much anyone to set up a blog of their own, regardless of their technical expertise. For the most part, WordPress succeeds at this. However, if you are the type of person who sets up blogs often, especially considering the fact that they all have to be updated every time a new security hole in WordPress is discovered, and if some of those blogs are on hosts that might have some issues with latency (small lags just before each connection), then setting up WordPress can sometimes be a little bit of a pain. WordPress 2.5.1, for instance, has 515 files in it that have to be uploaded in order to install it. Sure, if you have shell access and know how to use it, then you can just upload the zip file and unzip it on the server. However, if you don't have that (which is common with most shared hosting accounts), and there is just a couple of seconds lag before each files starts transferring, then that means that uploading the full package can take 20 minutes or more for each blog.
Me? I'm just not that patient.
Therefore I have written a WordPress Installer script, named EasyWP, that removes that hassle completely. Simply download and unzip EasyWP.zip (download link EasyWP). Upload easywp.php (a single file that is a mere 8KB) to the folder where you want to install your blog. Any directory will do, including the root directory, as long as WordPress isn't already installed in it (this script is designed to do clean installs only) and PHP can write to that directory (either through setting the permissions, or through PHPSuExec running on your server). Next, visit the page wherever you uploaded it to (ie. http://www.yourserver.com/blog/easywp.php), fill out the form, and hit the "Go!" button.
EasyWP will download the latest version of WordPress, unzip it into the directory where you want to host your blog, and modify your configuration file based on the information you entered into the form. Then it tests your database connection. If that fails, it gives you a chance to re-edit the info you entered, so if you made a mistake there is no need to edit and re-upload the config file separately
(just like when you install WordPress without the script, you do have to create the database and user beforehand). After that it takes you to the normal WordPress setup page, where you finish the process.
That's it. 😀
To recap: you can now upload and configure an entire brand new WordPress installation in under 30 seconds. Feedback and suggestions are of course welcome.