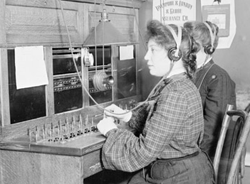 For the second year running Fortune magazine has named Google (GOOG) as the #1 place to work for in America. Their article last year states that Google "sets the standard for Silicon Valley: free meals, swimming spa, and free doctors onsite. Engineers can spend 20% of time on independent projects. No wonder Google gets 1,300 résumés a day." Now, I don't know about you, but to me numbers like that mean Google doesn't have to simply settle when hiring employees… they literally can pick and choose from the cream of the crop who does and who does not work for them.
In fact, according to Google themselves, their goal is to hire people who are "as passionate about their lives as they are about their work":
… regardless of where we are, we nurture an invigorating, positive environment by hiring talented, local people who share our commitment to creating search perfection and want to have a great time doing it. Googlers thrive in small, focused teams and high-energy environments, believe in the ability of technology to change the world, and are as passionate about their lives as they are about their work. – Google Jobs
So why is it a company that concerned about the quality of their employees can't seem find anyone decent for their customer service department?
If we were discussing deep complicated technical questions then I could understand a bit of confusion here and there. However, in my experience the reps at Google AdSense and AdWords seem to have problems with some of the most basic concepts of communication. I wrote a post about a month and a half ago about another of my recent communications with AdSense reps that went nowhere (wrote them again, btw, they are still ignoring me). This time, it's AdWords.
Let me be clear on this, the issue itself is not that important. I am not losing copious amounts of money, the Internet will not come crashing down if the question isn't answered, and no one's life is at stake here. However, for a couple of years now the replies that Google customer service sends back have established a solid pattern of non-resolution regardless of how important the questions asked actually are. This week I received an email from AdWords that opened with the following:
We noticed that you haven't shown your AdWords ads in a while. The Google AdWords Team wants to help you make the most of your advertising dollars, so…
Now, since I had just ran one of my AdWords campaigns not long ago, for my experiment having to do with the Google keyword tool, this concerned me a little. It hadn't been "a while", as they were claiming, it had only been 2 weeks. So, I wrote them back a one line reply, asking what they were talking about:
What's this about? I ran an AdWords campaign last week… – Me
They replied today. I looked at what they sent, got a little angry, and almost replied back immediately. However, I decided first to make sure that it wasn't my fault, that I hadn't somehow perhaps been unclear in what I was asking. I asked 3 friends what their interpretation of what my question had actually been, sort of an early morning IQ test. I showed each of them the same portion of the original email I showed above, as well as my question I replied back to AdWords with, and then asked, "In your honest opinion, what was my question to them?" The responses I got back were:
wtf did you send me an email saying i haven't advertised in a while, when i just did. – Donna Fontenot, Business Coach
why are you sending me this email, when i have run adwords recently? – Li Evans, Director of Internet Marketing
Your question was why are [they] saying your account isn't active, when it actually is. – Melanie Nathan, Director of SEO/SEM/SMM
As you can see clearly see, none of them are trained Google AdWords customer service representatives. They did not go through intensive schooling designed to teach how to answer complex questions on how AdWords is engineered to make the world a better place. Yet, despite their complete lack of employee orientation, each of them was in fact able to correctly interpret my short question.
The actual AdWords rep who replied, however, was apparently unable to do so:
Thank you for your email. I understand you are concerned about an email that you received from AdWords support saying that your ads have not been shown on Google for some time. You received this email since all of your campaigns are either paused or deleted. Please note, your ads won't show on Google if your campaigns have been paused or deleted. – Neha Verma, The Google AdWords Team
It's as if Google wrote an Eliza style program to handle their customer service questions, and almost got it right. Pick out key phrases from the emails, and see if there is a matching canned response. The problem, of course, is that the reply actually came from a real person, hired by a company that professes to employ people who are "talented", and are "passionate… about their work."
I have had both MSN and Yahoo employees call me on the phone when I was having an issue before. GoDaddy has done that also, as has Hostgator. MSN has "How did I do?" type questionnaires that they ask you to fill out after having a question dealt with. Hostgator even has a rating system on their trouble tickets, asking you to rate the helpfulness of each and every answer. Maybe Google needs to seriously consider collecting individualized feedback on their customer service representatives. At 1,300 resumes a day, it really shouldn't be that hard to find people who actually understand what the customers are asking.