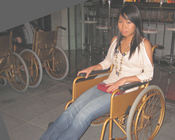 Google has been playing around some time now with showing ads based not only with the query you are currently on, but by also blending them with recent queries you made. My guess is that this is done on the assumption that if the same person performs two queries, one right after the other, then odds are the queries themselves are probably related. While this sounds good on paper, from my experience more often than not the results have nothing whatsoever with what I was searching on.
Today I did a search for [cookies disabled], because I was trying to see how many sites were showing that as their title to Googlebot (which, btw, is definitely a sign of the non-seo-conscious webmaster). I was shown this ad from Pronto.com:
Obviously just slopping broad match targeting on their end, coupled with the fact that with AdWords you can insert a token in your ads, and include the actual phrase the person was searching on. I've seen it before, and ever since AdWords has allowed us to find great deals like Ebay selling Black People, and low prices on Child Brides at Amazon.com, I've always kept my eyes out for other, well, unusual shopping opportunities. So, I figured I would see if Pronto had anything to offer me in the way of [cheap dates]. I gotta tell you, I was surprised what Google thought were good matches for that one!
Thanks for the dating tip, Google! 😀