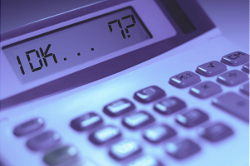 So, I think I finally discovered the cause of global warming. No, for reals. From what I can tell, miss Mother Nature started using Google Calculator in helping her figure out what kind of weather she should serve up to us. Now, if she were trying to bake a cake, or perhaps get driving directions, I am sure Google would have worked just fine. But for doing math involving temperatures…? Not so much.
I was playing around with the functions on Google Calculator last week, when I noticed some of the calculations weren't quite right. Maybe Michael Bolton from Office Space was involved in writing the Google Calculator app, and wound up putting a decimal in the wrong place, but something sure isn't adding up.
For those that don't know, water boils at 100 degrees Celsius and freezes at 0 degrees Celsius. In Fahrenheit the range is 212 degrees (boiling) to 32 degrees (freezing). Even for those of you who might not have remembered those figures off the top of your head, most of us did learn them fairly early in our academic careers… probably right around fourth or fifth grade. While those numbers may vary slightly under extreme pressures, for the most part they are pretty much standard. A simple search on Google will in fact verify that they are correct.
Overall I think that Google Calculator is a pretty cool tool. You can even type math in using English, and it will do it's best to figure out how to interpret the numbers. Usually it does an excellent job. When I was playing with it the other day, however, I got this odd response:


Erm… no.
Way off. Not even in the same ballpark. Google did manage to group the numbers in a meaningful way, correctly guessing what I actually meant by that question, and yet somehow still came up with the wrong answer. If you can't do it in your head, that should be (64F/2) = 32F = 0C, or water's freezing point.
Maybe it just has a problem with temperatures on the low end, I thought, and that if I go the other way we might get better results:


Wow. That's hot. Also wrong.
Apparently not. That one should be 106F * 2 = 212F = 100C, or the temperature at which water boils. Instead we get temperatures hotter than most home ovens can go. 😀
To give Google the benefit of the doubt, I decided to try and take out the conversions altogether, and just let it do simple temperature calculations, staying in just one measurements system:


Not even close. Google fails.
Nope, still no math love from the search giant. I guess Google just needs to go back to school. 😀