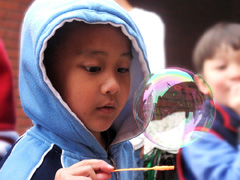 This Tuesday Matt Cutts published a post, that he had originally written in Dec 2005, entitled SEO Advice: Getting Links, where he outlined some good ideas that can lead to getting more links in to your site naturally. Some of the concepts he touched on were things such as providing a useful service (one time or ongoing), becoming a resource, or simply being the first to come up with a catchy idea. The ideas were all well laid out and he even provided examples of others who had used them. However, there were still a bunch of commenters who simply insisted that those tactics simply would not work for them. They cited that either the methods don't apply to commercial sites (which is what most people are trying to SEO), or that link bait of that nature will not ultimately get you the targeted anchor text you desire to rank for, and therefore is pointless.
The underlying ideas that Matt outlined seem obvious to me, and appear to have the same, simple theme… be creative. Unfortunately for some, however, creativity doesn't have a step by step instruction manual to go by. They see examples of things that seemed to have worked for other people, but cannot transmogrify those successes over into something that would work for their own niche. The elusive spark of intuition that allows some people to apply solutions that aren't obvious to problems that appear insurmountable just isn't burning for them.
I think one of the biggest problems in explaining these concepts to those that could most benefit from them is that with most SEO's today, both professional and hobbyist, their skills are comparable to what those of script kiddies are to traditional hackers. They want it completely laid out in black and white, a recipe that can be followed and is guaranteed to work, and if the solution or idea given to them doesn't have that those elements then it simply isn't worth their time.
If you read Matt's article, and cannot possibly see how the examples he provided could apply to you, then my advice would be to set aside the link building for now, and switch tracks over to some Imagination Building instead. Understand first that while many a great idea may have seemed to come to you from sitting around and getting high with your friends, re-enacting some scene from That 70's Show, that's usually not the way it works. In truth the vast majority of great ideas and inventions that power the modern world were not born in scenarios involving nothing more than laying around and relaxing. Approach mental exercise the same way as you would if you were trying to get (or keep) your body in shape, allow yourself some time to dedicate to it and have an end goal in mind.
Imagination Aerobics
Take A Creative Writing Course: Often times local libraries will offer writing workshops, or host writers clubs. Take advantage of these. Putting thoughts down on paper, either in fiction or in describing real world situations, especially when not under the constraint of a deadline, is a great way to flex your mental muscles. If you cannot find somewhere local to you offering a course, there are also plenty of resources online at your disposal. Educator Traci Gardner composed a wonderful list of Ten Creative Writing Activities. The ideas she presents are geared towards teachers interested in activities for their students, but there is no reason you couldn't be your own student and try them out for yourself.
Find New Ways To Do Old Tasks: Teach yourself to find 5 alternative ways to doing some common things that you already know how to do and that you perform on a regular basis. This can help to get your mind in the habit of being able to view getting the same results using different processes and concepts. Sometimes reinventing the wheel does serve a purpose, in that it brings you closer to understanding the process of invention behind it.
Practice Reverse Engineering: Go visit your local Museum of Science and Industry, look at some inventions, and think of ways you would have built them. Look at the way the pieces used in small machinery fit and work together. Try to envision where the inventor might have started from when coming up with his idea, and what stumbling blocks he may have had to overcome. Look at something the invention doesn't do, but maybe could with some modifications. Don't worry about whether or not something is feasible or cost effect when doing this… the point is simply to stretch your mind and see possibilities.
Study Techniques To Overcome Writers Block: Most of the tips designed to help writers deal with writers block are useful to stimulate your imagination for other purposes as well. Commnet.edu has some good tips to help with this, as do GMU.edu and Bournemouth University.
Is It Worth It?
Even if you aren't a programmer or developer, and cannot follow up on all this effort by designing link bait style resources on your own, the real value comes in the ideas themselves, and in how well you are able to lay them out. Think of it this way… suppose you come up with 5 decent small ideas that you can't bring to fruition yourself, and you wind up then spending $200 on each one outsourcing them to a developer. Even if they are only moderately successful, and only bring in an average of 100 links each, that still comes to 500 fresh, unasked for, one-way links now pointing to your site, from across 5 different gateways… for about $2 per link.
Additionally, links garnered in this way will not be of the caliber of those usually purchased en masse from a link building specialist. People who link to you spontaneously are much more likely to be the ones actively working on building and improving their websites, and these links will therefore probably be coming from pages that Google has a much higher "freshness" affinity with. It is highly unlikely that any of them will be stuck on pages 10 (or more) clicks away from the homepage along with 300+ other links that were just tossed on there with little to no editorial discretion.
Fine… But That Still Wont Get Me Targeted Anchor Text
No, it won't… but you are then free to link to the rest of your site in the navigation on those pages using any anchor text you choose. These resources that you add act as link juice sluices, allowing you to pull in generic ranking power, which you can then redistribute throughout your site as you see fit. Take, for example, the site that Matt mentioned in his post, St. Claire's. Matt showed how through the free tool that they built, they were able to get to #1 for the phrase [industrial signage] (cached version). However, what Matt did not mention is that not only are they also ranking for [military documentation] (cached version), a phrase found in their navigation, but also that they appear to be ranking for that phrase with absolutely zero outside links, as evidenced in this search (cached version). This means that the page is able to rank through the use of the anchor text found solely in it's own internal navigation, powered only by link juice coming in from other pages on the site.
Ok, Fine, I'm In. Where Do I Start?
Here are a few useful resources to help you on your way to a stronger, healthier imagination: