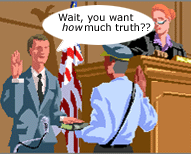 Ok, so, looks like Rand and gang finally decided to reveal their top-secret recipe about how they gathered all that information on everybody's websites without anyone noticing what they were doing. There was quite a bit of hoopla over the fact that when they announced their new index of 30 billion web pages (and the new tool powered by that index), due to the fact that they never gave webmasters the chance to block them from gathering this data. In fact, they never even announced their presence at all.
While this is a huge breach of netiquette as it pertains to crawlers, at least today Rand finally announced that they are now disclosing their sources for data. In fact, this was how he worded it to the community:
we are now disclosing our sources for data – Rand Fiskin, SEOmoz CEO and really, really open guy
Better late than never, right?
The thing is, as I was looking over the list of bots that you would need to block in order to prevent mozzers from gathering your data, I noticed this subtle, easy to miss pattern in what they were listing. You have to look really, really close to see it, and the untrained eye might never see it at all, but luckily, eventually, I did see it for myself: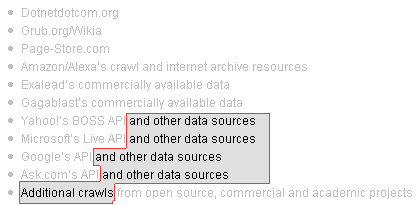 That's right folks, if you do decide to keep moz out by blocking all of the big guys (Google, Yahoo, MSN, Ask, Amazon, and Alexa), the lesser known guys (Dotnetdotcom, Grub, Page-Store, and Exalead), and that one fictional guy they threw in there (Gagablast), you still won't have them blocked. Fear not though… after much work, I finally figured out that Rand was indeed true to his word, and that they did in fact release enough information to block the bots. All you have to do is add the following lines to your robots.txt, and you'll be golden*:


User-Agent: *and other data sources
Disallow: /
User-Agent: Additional crawls*
Disallow: /


See? I got ya covered! 😀
Seriously though, despite the fact that Rand and Co. are still less than forthcoming about all of the bots that are used (I'm guessing he doesn't actually know, to be honest), something much more revealing is highlighted in this information, namely, they lied about having their own crawler.
Let's take a quick review of some statements Rand made in the initial announcement about the tool:
Our crawl biases towards having pages and data…
As others who've invested energy into crawling the web…
our crawl biases towards this "center"…
Our process for crawling the web…
Moving forward, we'll… invest in better and faster crawling…
In comparing our crawls against the engines…
we'll be releasing more information about our crawl…
You also have statements made by moz employee Nick Gerner like this:
we're crawling everything we can…
You even have him claiming bullshit like this:
We do prioritize the crawl according to pages we think are important. For now, and probably for the foreseeable future we're going to rely on link endorsement to make that decision. Make good content, get good links. Keep it publicly available. We'll get there soon enough – Nick Gerner, moz employee
That's right, not only did they claim that they were crawling the web, they wanted us to believe that they prioritized how they crawled based on an importance algorithm! 😀
I have to admit, Rand, it's pretty bold to basically admit this late in the game that you guys lied through your teeth and grossly misrepresented the facts, just so you could appear to have accomplished a much bigger task than you actually did, all in the name of getting more money from webmasters. That's a much bigger admission than saying you cloaked your bot, if you ask me. Gratz on coming clean.
*Disclaimer: The code I listed is sarcasm, btw. Those robots.txt lines won't actually block anything, just in case you didn't know.