Earlier this week at SMX Advanced Seattle, during the You&A With Matt Cutts, the topic of the latest Google update, dubbed Mayday by webmaster last month, happened to come up. According to Ryan Jones' live blogging account of the SMX Keynote the update had nothing to do with the web spam team. It was an algorithmic change that was intended to "make long tail results more useful". Matt made statements in effect telling webmasters who might have been affected by MayDay that they should look at their content and see how usefulness or unique content could be added to those pages. This indicates that the point of the Mayday update was to filter out or penalize results that are not unique content, or that are simply autogenerated results.
Matt made similar statements when he was interviewed by WebProNews and the topic came up:
How do I make sure that I am returning the highest quality content, stuff that's really useful for users, whether it's editorial discretion, unique content user generated content, you know, stuff that's not available anywhere else, versus just something that's scraped, or duplicate, or really kind of lower quality. – Matt Cutts, explaining how not to get penalized by the Mayday Update
During the keynote, in response to Matt's explanation of what Mayday was supposed to accomplish Danny Sullivan indicated that he hopes that this update will help filter out results from content mills like Mahalo. Mahalo certainly sounds exactly like what Matt was describing, as I have written about in the past.
So, did the Mayday update actually accomplish filtering out this "low quality" content from the search results? I went back and checked some of Jason Calacanis' spam pages on Mahalo that I had blogged about in the past. Unsurprisingly enough, most of the pages I checked were still ranking just fine in Google. What was slightly unexpected, however, was what the listing looked like for one of them, [need for speed walkthrough]:
Notice the lack of a snippet for that listing in the search results? That is because due to my earlier write-ups about Mahalo and Google, in an attempt to keep up appearances with Matt Cutts, Jason had the team move a bunch of the pages that I wrote about into a directory named /stub, and then blocked that directory via robots.txt. When Google encounters blocked content that has enough link juice it lists those pages, like you see here, as url-only. What Google usually doesn't do, however, is actually rank those pages well in the search results.
Thinking that maybe it was a fluke, and that perhaps that particular listing just had some extra ranking power because I had blogged about it before and therefore it gained a few extra links, I delved further. This is just a sampling of what I found:
[fallen angel walkthrough] (#4)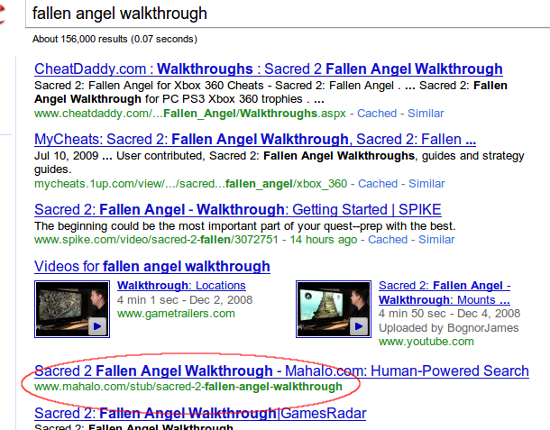 [jack keane walkthrough] (#7)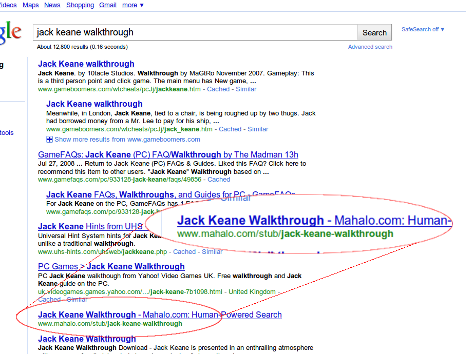 [how to plan thanksgiving dinner] (#7)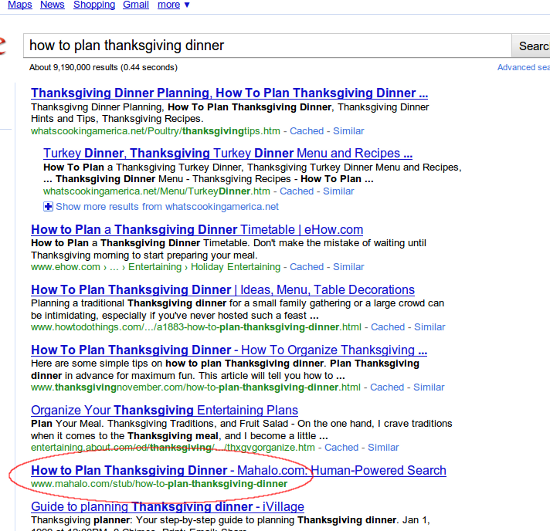 [allheart coupons] (#11)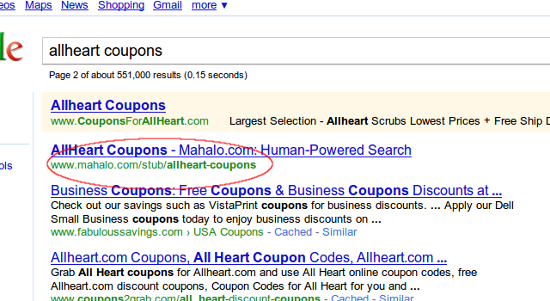 [adult friend finder coupons] (#1)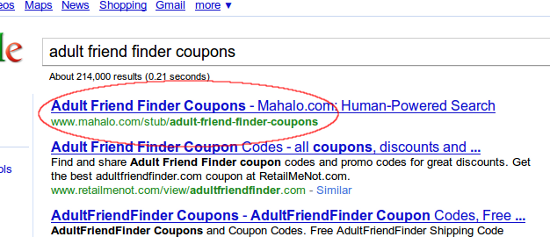 Let's look at that, especially the last one.
This is a page with 0 (as in none, nil, nadda, zilch) spiderable content, yet Google has deemed it worthy of ranking it #1, above every other page in the index that matches that phrase. Every.Single.One. We're given the company line telling webmasters that in order to succeed in ranking in Google one must focus on "quality" and "unique" content, yet Google decides to give Mahalo a golden ticket for pages they can't even see?
Wtf?
Hm. Maybe the key is that if you want your duplicate, low quality, spammy content ranked then all you have to do is block it with robots.txt…?
Obviously that is not the case, and anyone who understands at all about how these things work will recognize that statement as ludicrous… but just to be sure, let's look at some of the non-blocked content Mahalo pages are currently ranking for:
[julmust] (#7)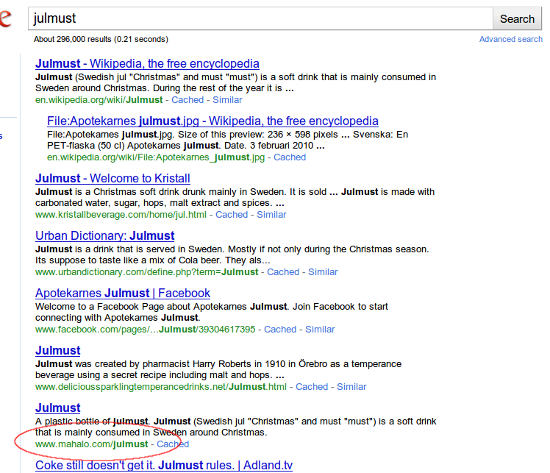 [The Alice B. Toklas Cookbook] (#11)

These Mahalo pages being returned are both examples of the many pages on Mahalo.com that are nothing more than content scraped directly from Wikipedia:
http://en.wikipedia.org/wiki/Julmust
http://en.wikipedia.org/wiki/The_Alice_B._Toklas_Cookbook
Note also that Wikipedia identifies some of their content as being "stubs" (the Alice B Toklas Cookbook page has a mere 261 words of content, including numbers and "a", "and", and "the"), but Mahalo is fine with presenting that exact same content as non-stub for whatever reason.
So, Danny, sorry… it looks as if Google did not achieve what it reportedly wanted to do with this latest update. It looks like both the low quality and completely duplicate (or even non-existant) content on Mahalo.com continues to rank. Maybe next time.