On Tuesday of this week someone posted the following question to the Hacker News website: How long has Mahalo been using keyword domains like this? The link in the story points to a search in Google, [inurl:tip_guidelines mahalo]. The results of this query show a list of somewhere between 180 and 270 sites (Google doesn't show all of them, just the first 184 or so) all belonging to Mahalo.com, all keyword rich domains, all using the Mahalo Answers platform, and all covering material that Mahalo.com already covers. I am sure most of you are familiar with that fact that Google labels sites that have little or no content and are designed to drive affiliate conversions as Thin Affiliate sites:
These sites usually have no original content and may be cookie-cutter sites or templates with no unique content. – Google Webmasters Tools Help, on sites Google does not like
These sites that Mahalo has started churning out, all that were apparently created just this year, would appear to be the AdSense version of the classic "thin affiliate" website.
I showed Matt Cutts the link to the search itself, and asked if he thought that the list of sites being returned looked spammy to him. His reply?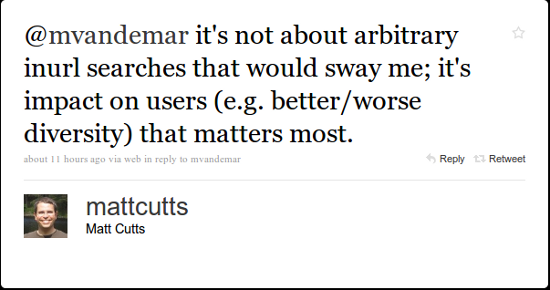 So, yet again, for some inexplicable reason the head of the Google Web Spam team appears to be defending Jason Calacanis. Despite the numerous posts that clearly demonstrate that Jason Calacanis is spamming Google, Matt is saying that he needs proof that these new sites are spammy. Pretty much anyone else in the industry can tell at a glance what is going on, but Google's foremost expert on the subject of spam still needs help seeing it.
That's fine. Let's go ahead and take a deeper look at what is happening behind the scenes with these sites. Here's one of the new sites that deals with cooking, cooking-questions.com: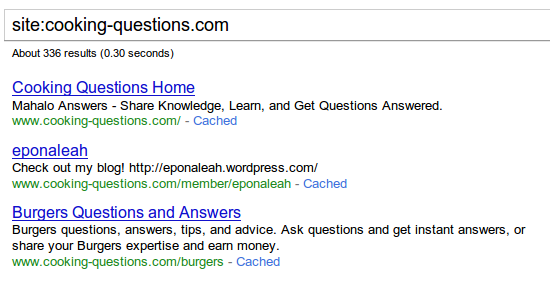 336 pages indexed there. So, was the "cooking" topic on Mahalo.com not covered then…?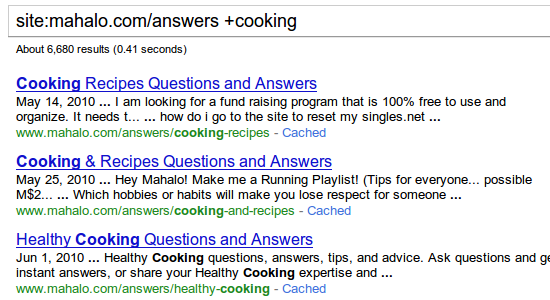 6,680 pages currently on Mahalo Answers, all about cooking. Looking at that list you can tell from the first two listings that Mahalo has one category for "Cooking Recipes", and a completely separate category for "Cooking and Recipes", whereas most non-spam directories, blogs, etc. would simply have picked one or the other. If they are struggling with diversity on the main site, how is it adding the same topic to an entirely new site is going to help?
Just for the record, the new, smaller site also seems to see the need to have both of those nearly identical categories as well:


Also, in case you're thinking that maybe it's the individual questions themselves on these new sites that are "diverse", one of the questions on the new site is "how-do-you-know-when-corn-on-the-cob-is-fully-cooked". Mahalo.com already has 10 pages on corn on the cob, 3 of which are: "how-long-do-you-cook-corn-on-the-cob", "how-many-minutes-do-you-think-is-the-perfect-time-to-cook-corn-on-the-cob", and "what-is-the-perfect-amount-of-time-to-cook-corn-on-the-cob". Yeah, that's diversity for ya.
Let's look at some of the other sites, see if maybe that first one was just a fluke. The new Mahalo site for Star Wars, starwarsanswers.com: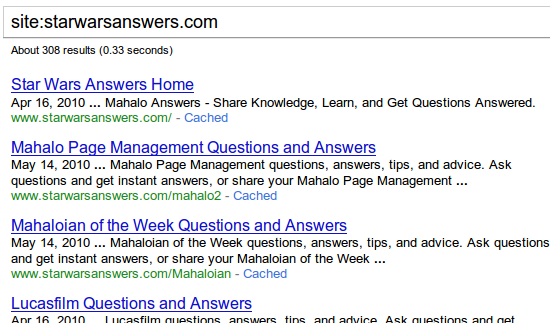 308 results. So, is Star Wars not handled on Mahalo.com then?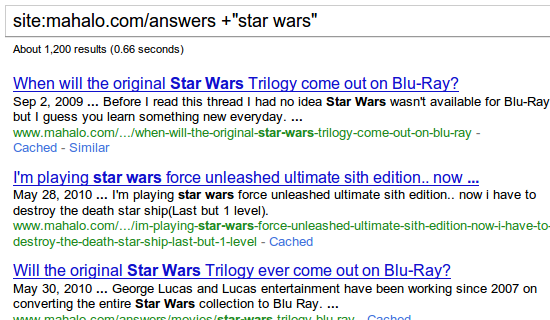 1,200 results, so obviously this isn't an example of "better diversity" either. Similar results for their Oklahoma City site, oklahomacityanswers.com: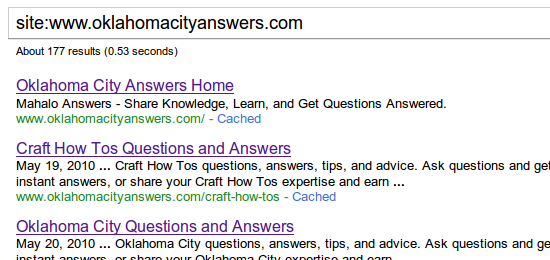 177 pages, and yet again, not new subject matter: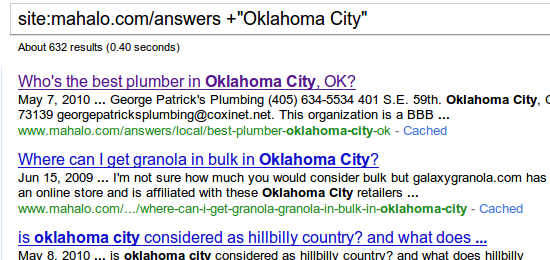 632 pages. On Oklahoma City questions. How did people manage to come up with that many questions about Oklahoma City on a site that hardly anyone ever actually goes to on purpose?
The answer, of course, is that they didn't. On the new site there are exactly 11 actual questions as of this writing. The other 166 pages are (mostly empty) category pages, member pages, and other fluff that each of these "cookie-cutter sites or templates with no unique content" come with by default. Since this is all crap content then, why would Calacanis even bother with them? There is little to no interest in many of these subjects… what game could Jason possibly be playing here?
I know! Let's all play: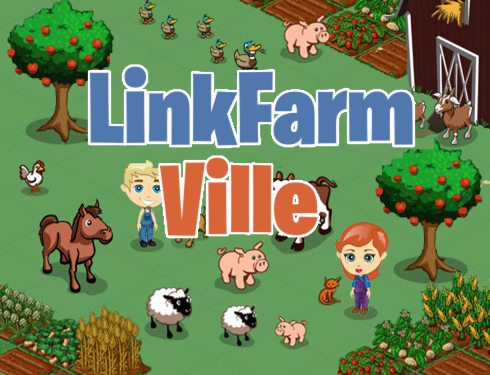 Back in February I discussed how the internal pages on Mahalo.com get almost no natural links. Almost all of their PageRank (and thus ranking power) comes from either employees linking from their blogs or it comes from scrapers. With hundreds of thousands pages to support, however, relying on that kind of sketchy link profile has a good chance of not panning out in the long run. Someone must have pointed this out to Jason, and now these mini-sites are his solution. If you can't build enough quality pages for people to want to link to you naturally, build sites and link to yourself. Look at, for instance, the cooking site's question on "What is the most common way to make Angel Food Cake?":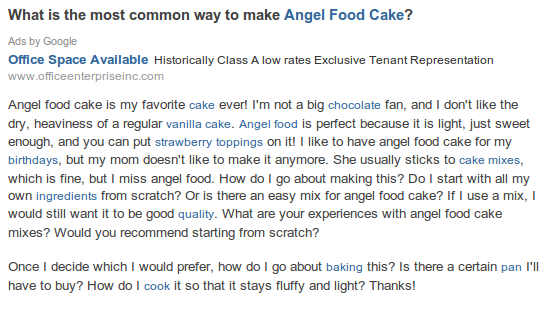 Within just the question itself, including the title, there are 14 links, all pointing back to Mahalo.com topic pages. If we examine the link profile for those pages being linked to, we see that these linkfarms that Jason is putting up provide the majority of their link juice. For example, the first page linked to is Malao's page on "cake":
Of the 10 links listed, 4 come from scrapers, one is a url shortener that is actually on a Mahalo.com page, and the other 5 all come from Jason's linkfarm: cooking-questions.com, parenting-questions.com, and foodiequestions.com. You can see the same is true throughout when you check the other links in the question, like the ones to the Mahalo pages on "chocolate" [link:http://www.mahalo.com/chocolate -site:mahalo.com] and "baking" [link:http://www.mahalo.com/baking -site:mahalo.com].
Some of the pages being linked to don't exist any more, since Jason did go in and delete some content in response to a good talking to Matt Cutts gave him a couple of months ago… but that's ok, the links are there just in case they ever decide to build those pages back out.
The embedded links aren't the only ones on these sites, either. You also have the sidebar links pointing back to Mahalo: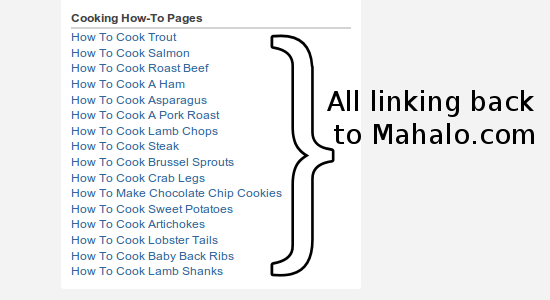 Of course all of these little sites need some link juice themselves, in order to stay indexed and pick up some long tail rankings, which in turn with garner them some scraper backlink juice of their own. Jason's got that covered too. For some of the pages he has redirected old pages from Mahalo.com, which acts as a reciprocal link exchange between Mahalo and the new sites. On iphoneqna.com, he has added a "Recommended Q&A Communities" block to the sidebar, which adds in an extra level of interlinking to the equation: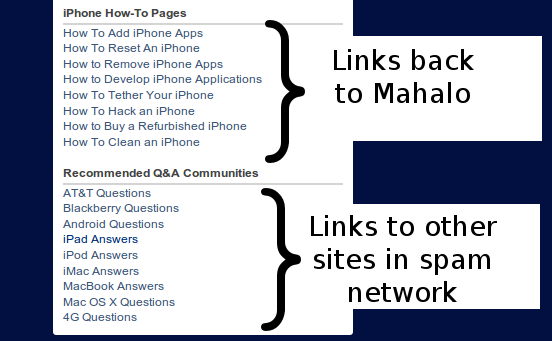 And of course there's always the fall back tactic of Jason simply linking to some of these sites from his personal blog and Tumblr account to give them a little extra kick.
Like much of what Jason does, nothing in these tactics is new. Google has directly addressed the non-acceptability of this type of link building for quite a while now:
… some webmasters engage in link exchange schemes and build partner pages exclusively for the sake of cross-linking, disregarding the quality of the links, the sources, and the long-term impact it will have on their sites. This is in violation of Google's webmaster guidelines and can negatively impact your site's ranking in search results. – Google Webmaster Tools Help page on Link schemes
It is spam, pure and simple. There is no added user experience, no diversity, and no reason for all of these sites, including Mahalo.com, to not get banned from Google.