Update 08/13/2015 – Please note:
The following Do It Yourself guide on how to de-hack your website is designed for people who don't necessarily know how to read php, but do know how to work their way through installing WordPress, themes, and plugins. It also assumes you know your way around whichever hosting control panel it is that comes with your host. Because malicious code can be very hard to weed out from the legitimate stuff, especially for someone who is not a programmer, this guide recommends that you start over with a completely fresh theme on your site. This means that for many, the customizations that were done to the theme will be lost, or will need to be re-done. For those of you who would prefer not to do that, or who have a complicated or ecommerce site, or one with heavy traffic and you would like to completely minimize the downtime, I do offer professional cleaning services. I can de-hack and secure your site without losing any of the design or functionality, and in most cases there is only a few minutes of downtime near the end of the process. For more information, please
fill out my contact form
.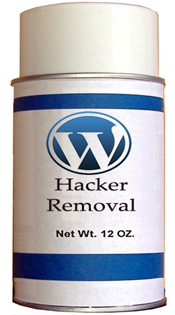 Getting hacked sucks, plain and simple. It can affect your rankings, cause your readership to be exposed to virus and trojan attacks, make you an unwilling promoter to subject material you may not actually endorse, and in many cases cause the loss of valuable content. However, once it happens it is usually best to not procrastinate on the clean up process,